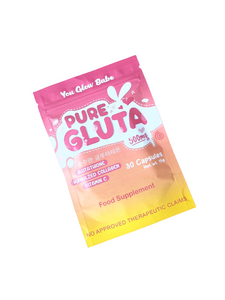 Description: 
Glutathione is a powerful antioxidant that helps whiten skin, protects against environmental toxins and supports healthy body. Collagen helps strengthen connective tissue and elastin, making you more resilient against physical stress. Made from natural ingredients that help your body burn fat more efficiently, eliminating toxins in the process. Vitamin C delivers a range of benefits to your skin by protecting it from sun damage and boost collagen production.
Active ingredients include Glutathione, Collagen Pepdite, Alpha lipolic acid, Sodium Ascorbate, Vitamin E, Grapeseed, N-acetyl cysteine.

Product weight: 15g
How to use: 1 capsule in the morning (empty stomach before breakfast) and 1 capsule before sleep.
Disclaimer for skincare products: 
For adult use only. Keep out of reach of children. Not intended for children, pregnant, and lactating women.

If you are taking medication, consult your doctor before use.

Please consume 1-2 glasses of water after drinking the supplement.

No approved therapeutic claims.