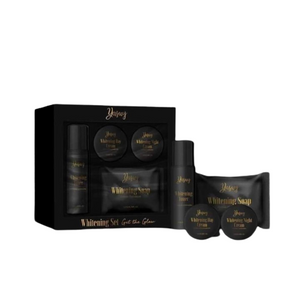 Description:
What's in the box of Yasuy Whitening Set?
Whitening Toner
Whitening Soap
Whitening Day Cream spf 30
Whitening Night Cream
Yasuy Maintenance Set

For first time users, use Yasuy Rejuvenating beauty set first before using the maintenance set.
How to use: 
Yasuy Beauty Soap. Work the soap to a nice lather and massage to your face and neck. Rinse thoroughly.
Yasuy Beauty Toner. Wet a cotton pad. Then, start dabbing onto your face. You can also gently sweep over.
Yasuy Night Cream. Massage all over face and neck
Disclaimer for skincare products: We recommend that you read labels, warnings, and directions of all products before use. Please review the ingredients list and patch test before full application. Individual results may vary.
If use causes an adverse skin reaction, discontinue use immediately, and see your doctor or pharmacist if no relief comes from rinsing the affected area with cool water.