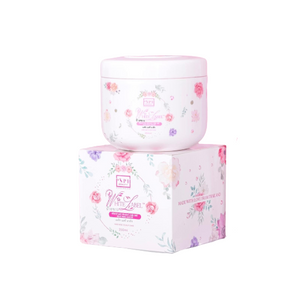 Description:
Your ultimate hair food and your hair's new bestfriend. Made with Love from Thailand.
PSPH Beauty Official proudly introduces WHITE LABEL by PSPH Beauty Detox Hair Treatment Mask (Hair and Scalp Care)
Powered by 7 state of the art ingredients which your hair will never ever forget
Keratin • strengthens hair shafts leaving it shiny, manageable and less frizz.

Collagen • boosts hair thickness and volume.

Pro Vitamin B5 • seals in moisture, add softness and shine. 

Sakura Extract • gives back life to damaged hair.

Green Tea Extract • antioxidant powerhouse that helps with restoring chemical and environmental damaged hair.

Argan Oil • reduces hair breakage and split ends.

Macadamia Oil • provides extra moisture and tames frizz.
Product weight: 250ml
How to use:
Shampoo the hair (any Shampoo will do)

Apply White label DHTM to hair and scalp (Yes! You can massage the treatment to your scalp!) leave on for a couple of minutes.
Rinse well with water.
Fan dry/ Blow dry
Disclaimer for skincare products:  We recommend that you read labels, warnings, and directions of all products before use. Please review the ingredients list and patch test before full application. Individual results may vary.
If use causes an adverse skin reaction, discontinue use immediately, and see your doctor or pharmacist if no relief comes from rinsing the affected area with cool water. 

I love this hair mask so much , my hair is so soft and smell so good . Even my daughter uses it.
Thanks☺️
I see this only in tiktok 😁but now it's here in abroad 🇦🇺 and I brought 2v just to try it if work for my hair I like the smells 🥰only been using since u bought this product so far my hai it nice & smooth thank you for the product 🥰🥰🥰I gonna order more 😊😘🥰🥰🥰