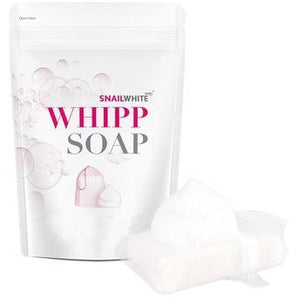 Description:
NAMU LIFE SNAILWHITE WHIPP SOAP is the premium soap net for your new experience of skin nourishment. The whipped foam helps cleanse skin gently and nourishes skin with benefits of Bearberry Leaf Extract that promotes skin to be radiant. Moreover, it contains 3 plant extracts, which are Balloon Vine, Echium Oil, and Sunflower Oil which help reduce inflammation. When blended with Hyaluronic Acid, it can help hydrate skin, promote skin to be glowing, and rejuvenate skin naturally.
Key Features: The soap net with benefits of snail secretion for radiant, firming and youthful skin
Benefits: 
Promotes brightening and healthy skin
Nourishes skin to be smooth, soft, moisturized, and youthful
Cleanses the skin without the drying effect
Key Ingredients: Bearberry Leaf Extract, Balloon Vine, Echium Oil, Sunflower Oil, Hyaluronic Acid, Snail Secretion
Product weight: 100 g
How to use: Use to cleanse skin by soaking the soap with water to get the whipped foam and gently apply all over facial skin or the areas needed. Then rinse with clean water (easily to rinse off with no dryness).
Disclaimer for skincare products: We recommend that you read labels, warnings, and directions of all products before use. Please review the ingredients list and patch test before full application. Individual results may vary.

If use causes an adverse skin reaction, discontinue use immediately, and see your doctor or pharmacist if no relief comes from rinsing the affected area with cool water.