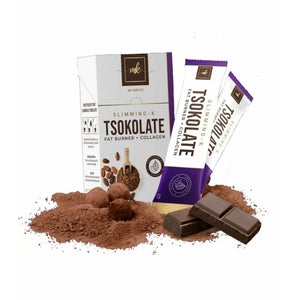 Description:
You will definitely love this new flavor from Slimming K aa mush as you loved Slimming K Coffee!
Curb Cravings
Ingredients such as Garcinia Cambogia and African Mango extract keep you feeling full, reducing your need to snack.
Fat burner 
Increased fat burning provides your body with more energy to power you through the day.
Accelerate Fat Loss
Active ingredients work hand-in-hand to reduce fat production and increase fat burn
Product weight: 21 g x 10 sachets
Expiration date: November 18, 2023
How to use: 
Get 1 sachet of slimming K
Dissolve it on a cup of hot or cold water
Stir for 10 seconds and enjoy!
Disclaimer for supplements: 
For adult use only. Keep out of reach of children. Not intended for children, pregnant, and lactating women.

If you are taking medication, consult your doctor before use.

Please consume 1-2 glasses of water after drinking the supplement.

No approved therapeutic claims.
Loving my new fab slimming tsokolate drink morning and night.
This is my 3rd slimming k tsokolate I bought from " theprettyglam" I was so amazed with this product because it help my appetite to control my hungry nest and not only that the slimming k tsokolate have collagen to make your skin beautiful kaya na addict ako sa slimming k at ung lasa nya is super yummy not like the other brand I try before but this one is my favourite to drink. Thanks " theprettyglam's" for having this product 👏🏻🙂