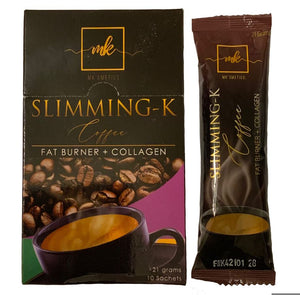 Description:
Feel the natural aroma taste Detox Coffee but with a twist.
SLIMMING-K COFFEE FAT BURNER + COLLAGEN
The main ingredients are Garcinia Cambogia combined with L-Carnitine for an effective and efficient way to burn fat and Glutathione and Collagen for the skin's healthier and more youthful glow.
Product weight: 21 g x 10 sachets
How to use:
Empty contents of one sachet into a glass.

Pour 150ml of cold or hot water and stir until completely dissolved.

For best results, drink warm water first thing in the morning then Slimming-K coffee 30 minutes before a meal.

Can be taken up to 4x a day.
Disclaimer for supplements: 
For adult use only. Keep out of reach of children. Not intended for children, pregnant, and lactating women.

If you are taking medication, consult your doctor before use.

Please consume 1-2 glasses of water after drinking the supplement.

No approved therapeutic claims.
Effective naglose ako ng 2kg. In just 1 week, supper love it
Excellent
I never drink coffee in my entire life first time for me and taste really good in two week my weight from 70kg now 68kg ,I feel light awesome results is really work for me .