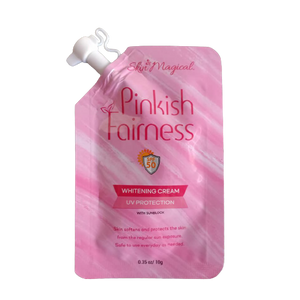 Description:
Level up your daily skin pampering session for a smoother, whiter and protected skin with this travel friendly whitening products from Skin Magical.
Natural White (Pinkish Fairness
whitening cream
whitening actives that works immediately showing pinkish glow within hours of use
softens and protects the skin from dryness
with UVA & UVB Protection
Perfect for times when you have to rush and go to different commitments and meetings. Perfect for on the go ladies! 
Product weight: 10 g
How to use: 
Wash and clean area of application.
Apply with an upward circular motion similarly to light pressure massage.
Then pat the area to dry.
Disclaimer for skincare products: We recommend that you read labels, warnings, and directions of all products before use. Please review the ingredients list and patch test before full application. Individual results may vary.
If use causes an adverse skin reaction, discontinue use immediately, and see your doctor or pharmacist if no relief comes from rinsing the affected area with cool water.