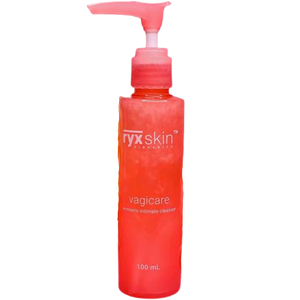 Description:
WHY VAGICARE?
Like any other, Ryx Skin's Vagicare is comparable to leading brands.
In comparison, almost all these leading brands has guava leaf extract due to its guaranteed anti itch, anti irritation and anti odor benefits.
BUT— Here's the tea:
Vagicare has Rose Water extract to provide more "gentle" benefits to our most intimate part.
Rose Water is an anti-oxidant that smoothens and softens skin, and an anti-inflamatory that calms irritation as it refreshes and soothes. Rose Water is definitely a very good natural cleanser.
HENCE — it is more powerful when combined with guava extract for the purpose.
Vagicare has also a moisturizer in the form of Sodium Lactate and Sodium Gluconate.
These ingredients give a soap a luxurious and smooth after-wash feeling. Thus, it softens the skin and labia (intimate part).
Vagicare is also pH balanced. Now when you use Vagicare, you can "instantly" feel cleaned, soft, irritation-free, calmed and fresh!
Lastly, (but more of it)
Vagicare has Chamomile Extract to keep the intimate part glowing! Chamomile Extract is a natural skin lightener aside from other benefits it can provide. You can see visibly that the surface of your intimate area lightens as you use Vagicare.
As good as the leading brands, yet, Vagicare improves it to maximize the benefits as it combines all the goodness in a bottle of feminine wash! 
Product weight: 100 mL
Disclaimer for skincare products: We recommend that you read labels, warnings, and directions of all products before use. Please review the ingredients list and patch test before full application. Individual results may vary.
If use causes an adverse skin reaction, discontinue use immediately, and see your doctor or pharmacist if no relief comes from rinsing the affected area with cool water.