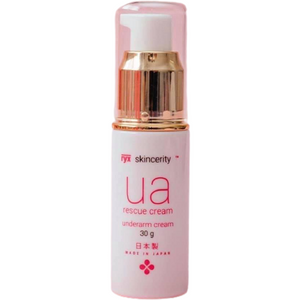 Description:
Rescue your underarm from chicken skin and darkening with our new UA Rescue Cream. Our underarm deserves much love as we do in other parts of our body so we made the perfect solution for all your "dark secrets". This gel-cream product is easily absorbed by the skin unlike most types of commercial underarm products that stays on the surface and causes clogged pores. While it nourishes the skin underneath, its anti-perspiration properties protect your underarm from foul odor.
So what is this Ryx Skincerity "UA RESCUE CREAM"?

Works as an anti-antiperspirant/deo cream

Brightens and smoothens your underarms

Has antibacterial and anti-chicken skin properties
Product weight: 30 g
How to use:
Apply or rub product/products to a patch of skin on the inner, lower arm.

Rub it in and allow it to dry on the skin.

Do not wash that area of the skin for at least 24 hours; watch for signs of reaction.

If rash, burning, tingling, or inflammation occur, immediately remove the product from skin and discontinue all further use.
Disclaimer for skincare products: We recommend that you read labels, warnings, and directions of all products before use. Please review the ingredients list and patch test before full application. Individual results may vary.
If use causes an adverse skin reaction, discontinue use immediately, and see your doctor or pharmacist if no relief comes from rinsing the affected area with cool water.