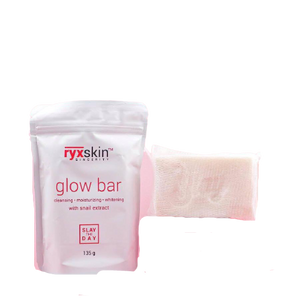 Description:
CLAIR BLANCHE is a multifunctional whitening agent composed of different fruit and plant root extracts that are proven to whiten the skin.
RYX SKINCERITY GLOW BAR contains no harsh additives, preservatives or detergents commonly found in store-bought soap. Your skin will love the moisturizing, nurturing and creamy lathering properties.
100% NON-TOXIC. ALL NATURAL. MADE BY ARTISAN INGREDIENTS.
RYX SKINCERITY GLOW BAR provides a rich, foamy lathers to shower you with silky-softness as it whitens, hydrates and enhances your skin all over. It will leave your skin feeling clean and healthy-looking.
Product weight: 135 g
How to use: Use daily as regular soap.
Disclaimer for skincare products: We recommend that you read labels, warnings, and directions of all products before use. Please review the ingredients list and patch test before full application. Individual results may vary.
If use causes an adverse skin reaction, discontinue use immediately, and see your doctor or pharmacist if no relief comes from rinsing the affected area with cool water.