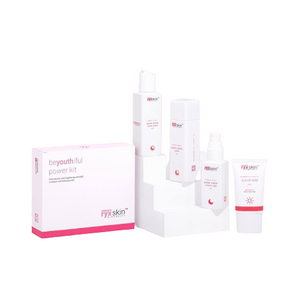 Description:
Re-introducing the RyxSkin BeYOUTHiful Power Kit to IMprove and reNEW based on the crowd's favorite pioneer formula of the Starter Kit.
Hail to our Queen P — Power Kit serves the right potent for breakout relief and complexion correction. Perfect to headstart #YourWayToSlay
This bundle of natural youth-enhancing skincare collection that will leave your skin looking visibly healthy and glowing.

Experience a new way to rejuvenate and exfoliate with Ryxskincerity's Be YOUTHiful Starter Kit.

It allows the skin to gently shed damaged epidermis.

This skincare set safely flakes away the damaged skin and kickstarts the rejuvenation process.

The top layer of skin is exfoliated to reveal a healthier, radiant skin under it.

This starter kit works best when used together to reduce the dullness, pigmentation, and fine lines usually found in dried, unhealthy, aging forms of skin.
Ryx rejuv set has milk based foam wash for a light touch sa skin..
And instead of night cream, ryx has rejuvenating serum which is more easily absorbed by the skin
And this is recommended to those who have sensitive skin
How to use: 
STEP 1: RYX Skincerity Rejuvenating Facial Wash
Removes all skin impurities and excess dirt, so skin feels smooth, nourished and clean.
STEP 2: RYX Skincerity Rejuvenating Toner
Multi-tasker! Deep cleanses the skin to penetrate and clear pores as it helps exfoliate dead skin cells and maintain a clear complexion.
STEP 3: (day) RYX Skincerity Sun Shield (Sunscreen)
Daily broad spectrum protection from UVA and UVB damage.
STEP 4: (night) RYX Skincerity Rejuvenating Serum
Designed to enhance skin renewal, reduced visible signs of aging and retexturize the skin.
Disclaimer for skincare products: We recommend that you read labels, warnings, and directions of all products before use. Please review the ingredients list and patch test before full application. Individual results may vary.
If use causes an adverse skin reaction, discontinue use immediately, and see your doctor or pharmacist if no relief comes from rinsing the affected area with cool water. 
Amazing
This is my first time I've used your product and it's working well,I will be trying this product again very soon as I'm very happy with the results,
Love the product
Been using it before and its really good on my skin..thank you so much pretty glam🥰
Good for acne prone skin
So i've been using ryx since my hormonal acne before and it saved my skin. I purchase this again and it seems like i broke my skin barrier and it cause me a lot of breakout. So my advice is this kind of products are strong maybe use it once or twice a week depends on your skin.
Great product
Love this product.. the toner is good and doesn't make my skin dry.. No stingy feeling after using it. Soft skin while using the product
My new favourite
I have a very sensitive skin so I mostly stay away from skincare products, but when I saw on YT about Ryx Skincerity Beyouthiful Starter Kit n pd daw s sensitive skin I just have to take a risk and hoped n hindi masunog ung face ko. After 2 days of using the kit I was surprised that there is no stinging effect at all most specially when I use the toner. This kit is my new holy grail ♥️♥️♥️