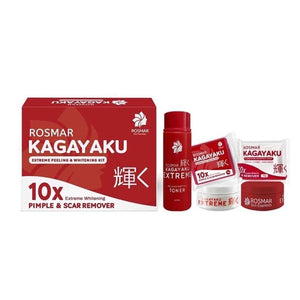 Description: 
Kiss pimples and hyperpigmentation goodbye with this powerful Rosmar Kagayaku Rejuvenating Kit. It includes five (5) products; as shown below, each of which contains robust ingredients to treat your skin.

Rosmar Kagayaku Rejuvenating Kit Benefits:

10x instant whitening.

Pimple and scar remover.

Evens out skin tone and texture.

Makes skin smooth and soft

Reduces wrinkles and fine lines.
Inclusions:

60ml Rejuvenating Toner

10g Rejuvenating Night Cream

10g Rejuvenating Brightening Sunscreen

70g Kagayaku Whitening Soap

70g Kojic Peeling Soap
How to use: 
Wet your face using lukewarm water.

Use the Whitening Soap in the morning and Kojic Peeling Soap for nighttime.

Put an amount of Rejuvenating Toner on a cotton pad. Spread evenly on the face in an upward motion. Leave it for 30-45 seconds to absorb.

During the day, apply Rejuvenating Brightening Sunscreen evenly on the face. Re-apply every after 2 hours. At night, apply Rejuvenating Night Cream on the face and leave it overnight.
Disclaimer for skincare products: We recommend that you read labels, warnings, and directions of all products before use. Please review the ingredients list and patch test before full application. Individual results may vary.
If use causes an adverse skin reaction, discontinue use immediately, and see your doctor or pharmacist if no relief comes from rinsing the affected area with cool water.