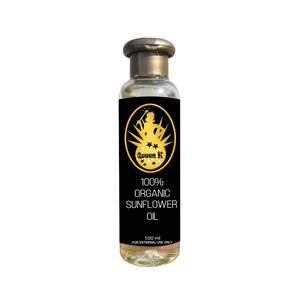 Description:
‍Did you know that the humble sunflower oil can work wonders for your skin?
Sunflower oil is a "magic oil" when it comes to skin care, as it makes your skin soft and supple, and prevents signs of aging.
Acts as an Effective Emollient
Sunflower oil is an effective emollient, which means that it helps the skin retain moisture. Thus, people with dry skin can benefit immensely from the regular use of the oil. Also, it is mild, soothing, and provides relief from irritation and inflammation of the skin.
Helps with Sun Protection
Helps diminish dark spots and pimple marks
Helps lighten dark circles
Helps soften rough and dry skin
Be used to remove makeup
Helps relax tired eye
So, you see, sunflower oil is, indeed, essential, if you seek youthful skin. Go ahead and make it a part of your skin care regimen
Product weight: 100 mL
How to use: Apply directly to your skin 1 to 2 times daily. After Bath, Before going to bed or Once a day, before bedtime. Safe for kids, lactating moms and pregnant women.
Disclaimer for skincare products: We recommend that you read labels, warnings, and directions of all products before use. Please review the ingredients list and patch test before full application. Individual results may vary.
If use causes an adverse skin reaction, discontinue use immediately, and see your doctor or pharmacist if no relief comes from rinsing the affected area with cool water.