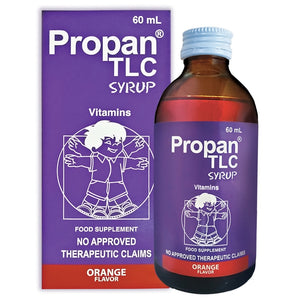 Description:
Propan TLC is an orange-flavored multivitamin syrup for kids which combines necessary vitamins to help your child's overall growth and well-being.

Benefits:

Lysine and B Vitamins helps boost and maintain  appetite and energy

Chlorella Growth Factor or CGF and Vitamin D enhances growth

Taurine helps with mental development

Vitamin A and E enhance eyesight and promote healthier skin

Vitamin C for kids help boost immunity
Product weight: 60 mL
How to use: Children 1-3 yrs old: 2.5mL (1/2tsp) daily
Children 4-12 yrs old: 5mL (1tsp) daily
or as prescribed by a physician.
Disclaimer for supplements:

Propan TLC Syrup is ideal for children aged 2-12 years old only.
It is always best to consult your doctor or pediatrician before giving any supplement or medication to your child.
No approved therapeutic claims.
propan
This is what I looking for and finally I see glam😊 halos lahat ng gusto ko or pang pinoy product nasa glam👍🏻😊 thank u glam for this vitamins