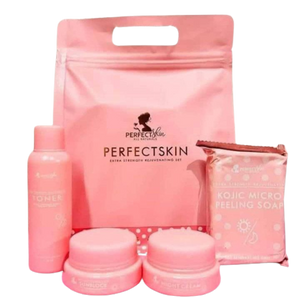 Description:
Perfect Skin Rejuvenating  Set works by subtle micro-peeling effect and guaranteed brightens your facial skin within 7 days!
Proven safe and effective. Dermatologist tested.  
BENEFITS:
Whitens skin
Tightens pores
Dries Pimples fast
Removes Pimple Marks
Keep Skin blemishes free
Removes blackheads and whiteheads
Removes Discoloration
With a natural pink effect
INCLUDES:
Rejuvenating Kojic Soap 110g
Rejuvenating Toner 60ml
Rejuvenating Night Cream 10g
Rejuvenating Sunblock Cream with SPF35 10g
How to use:
STEP 1: (Day Time and Night Time)
Use REJUVENATING KOJIC SOAP in the morning and at night as your daily cleanser.
Lather and leave for 2-3 minutes.
Then rinse it thoroughly with lukewarm water.
Pat dry with a clean towel.
STEP 2: (Day Time and Night Time)
After cleansing with Rejuvenating Kojic Soap, apply REJUVENATING TONER on your face with a cotton pad or ball.
Apply gentle and in upward strokes.
Do not rub. Do not rinse.
STEP 3: (Day Time only)
Apply REJUVENATING SUNBLOCK CREAM with SPF35 all over your face 30 minutes before exposure to sun.
Re-apply every 2-3 hours especially if your exposure to sun is frequent or for long period.
STEP 4: (Night Time only)
Apply  REJUVENATING NIGHT CREAM thinly all over your face for 30 night only.
Disclaimer for skincare products: We recommend that you read labels, warnings, and directions of all products before use. Please review the ingredients list and patch test before full application. Individual results may vary.
If use causes an adverse skin reaction, discontinue use immediately, and see your doctor or pharmacist if no relief comes from rinsing the affected area with cool water. 
Number 1
Love to use it you can see the result for couple of days😍 I feel beautiful 😻😍