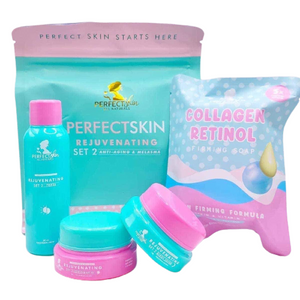 Description:
 Let's talk about Perfect Skin Rejuvenating Set 2
Why do we need to use this skincare set?
Improves Skin Complexion

Evens out Skin Tone

Remove Skin Blemishes
This set is definitely perfect for women who are just starting to build their own skincare routines!
Product weight: 215 ml
How to use: 
Collagen Retinol Soap - Gently cleanses skin and exfoliates dead skin cells. Reduce hyperpigmentation, Freckles, Sunspots, Finelines and Wrinkles, Acne and Blemishes.

Facial Toner - Acts a double cleanser. Unclogs pores to deeply cleanse impurities, dirt and oil. Lightens and brightens skin completion.

Sunblock  - Protect your skin from UV rays that causes sunspots, rapid skin pigmentation, Premature skin aging and sun damage.

Night Cream - Help in reducing the appearance of pigmentation. Suitable for all skin type, it helps fade away the darkspots and other aging signs
Disclaimer for skincare products: We recommend that you read labels, warnings, and directions of all products before use. Please review the ingredients list and patch test before full application. Individual results may vary.
If use causes an adverse skin reaction, discontinue use immediately, and see your doctor or pharmacist if no relief comes from rinsing the affected area with cool water.