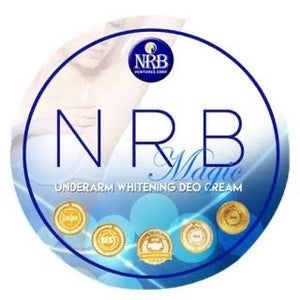 Description:
NRB MAGIC CREAM 35g
Very effective and affordable
3 in 1 cream 101% (whitening, deodorizer & anti perspirant)
Lesser hair growth
Results can be seen in 2weeks (depending on one's skin type)
Tawas-like texture
Very dry all day
You won't feel sweaty at all
Better than the normal deodorant
No smell or odor even after 24hrs of non usage.
INGREDIENTS:
Distilled Water citric acid,

1, 2, 6-Hexanetriol,

polyethylene glycol 8000,

propylene glycol and stearyl alcohol,

alum
Product weight: 35 g
How to use: The most effective underarm whitening How to use NRB Magic Underarm Whitening Deo Cream? – Just apply it as a regular cream. Don't rub it in as it has small particles like scrubs that might hurt your underarms & make it dark. Use it once a day.
Disclaimer for skincare products: We recommend that you read labels, warnings, and directions of all products before use. Please review the ingredients list and patch test before full application. Individual results may vary.
If use causes an adverse skin reaction, discontinue use immediately, and see your doctor or pharmacist if no relief comes from rinsing the affected area with cool water. 

Ive been using this for 2 weeks now.
This is a must try for underarm whitening!