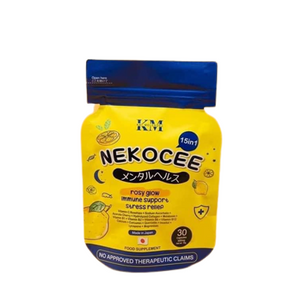 Description: 
Vitamin C, Rosehip Collagen Peptide, L-Curcumin, Vitamins B1, B2, B6, B12, Acerola Cherry, melatonin, Hydrolyzed collagen, calcium, Quercetin, inositol, Lycopene, magnesium. 
Product weight: 15g 
How to use: 1 capsule a day ONLY before bedtime
Disclaimer for supplements:  
We recommend that you read labels, warnings, and directions of all products before use. Please review the ingredients list and patch test before full application. Individual results may vary.
Nekocee is generally safe to intake, for up to 13 years old and above. However, for pregnant and breastfeeding women, we advise that you consult your doctor prior to intake.