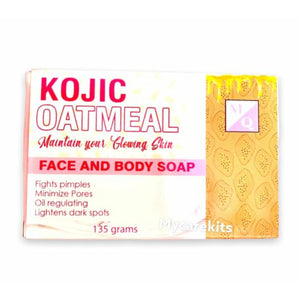 Description:
M.Q. Selfcare Kojic Oatmeal Soap with Milk and Honey
Kojic Papaya helps whiten dark complexion. This is good in treating melasma, and other darkened parts of the skin and it also contains anti-bacterial elements that help in getting rid of bacteria that cause acne. While the Oats relieves skin irritation and itching and gently exfoliates the skin naturally. It also removes wrinkles and is great in removing dark circles. Oats have amino acids in them which can lighten marks, skin discoloration, and dark spots.
GENTLY EXFOLIATES FOR YOUNGER-LOOKING SKIN
REMOVES DARK SPOTS
REMOVES PIMPLES
TIGHTENS PORES
LEAVING YOUR SKIN MOISTURIZED
PREVENTS SKIN IRRITATION
EVENS OUT SKIN
DRIES OUT ACNE
BRIGHTENS SKIN
FDA APPROVED
Works best with getting Glassy Skin Perfecting Serum! Really a MUST TRY!
Product weight: 135 g
How to use: Use daily as regular soap.
Disclaimer for skincare products: We recommend that you read labels, warnings, and directions of all products before use. Please review the ingredients list and patch test before full application. Individual results may vary.
If use causes an adverse skin reaction, discontinue use immediately, and see your doctor or pharmacist if no relief comes from rinsing the affected area with cool water.