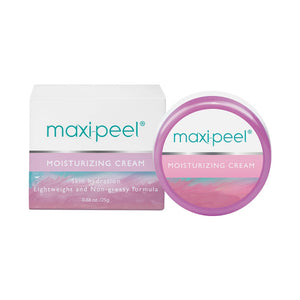 Description:
Make skin still feel soft and smooth even while you're exfoliating. MAXI-PEEL Moisturizing Cream provides an immediate surge of moisture, keeping exfoliant-treated skin relieved from itching and dryness. It has a lightweight formula that leaves a non-greasy feel. Use nightly to provide skin hydration and moisture.
Product weight: 25 g
How to use:
Wash your face with Maxi-Peel Facial Wash.

After drying, use Maxi-Peel Exfoliant Solution on your face.

You just need to 

place only 2-4 drops on a cotton ball and gentle dab on your face, in an upward motion

.

Let it dry and apply Maxi–Peel Moisturizing Cream afterwards for a smoother and moisturized skin.
Disclaimer for skincare products: We recommend that you read labels, warnings, and directions of all products before use. Please review the ingredients list and patch test before full application. Individual results may vary.
If use causes an adverse skin reaction, discontinue use immediately, and see your doctor or pharmacist if no relief comes from rinsing the affected area with cool water.