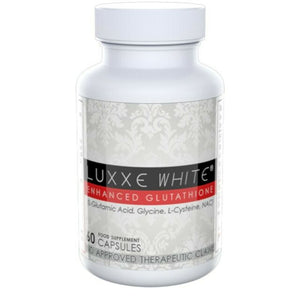 WANT TO RECEIVE LIFETIME 50% DISCOUNT ON THIS PRODUCT? PLEASE SEND US A MESSAGE.
Description:
What is Luxxe White?
Luxxe White is an Enhanced Type of Glutathione. Luxxe White Glutathione is considered as the master antioxidant.
Luxxe White is the most effective and best glutathione brand in the Philippines.
Aside from its antioxidant properties, Glutathione is widely used globally for its skin whitening and lightening side effects.
LUXXE WHITE is an ENHANCED GLUTATHIONE ACCELERATOR.
It helps supports the body's own production and preservation of Glutathione. It is clinically tested to be easily absorbed by the body. 
Glutathione is said to be a small protein composed of three amino acids called Cysteine, Glutamic Acid, and Glycine. Glutathione usually referred to as the body's master anti-oxidant. It has been widely heralded for its importance for good health. Glutathione in increasing dose poses a remarkable "side effect" of skin whitening.
INGREDIENTS

Luxxe White Content Supplement Fact
Glutathione Blend
L-Glutamic Acid 180mg
Glycine 220mg
L-Cysteine 120mg
Vitamin C 100mg
Alpha Lipoic Acid 100mg
Grapeseed Extract 0.63 mg
HOW TO TAKE LUXXE WHITE:
Take it twice a day 1 in the morning and 1 before sleeping.

In the morning when you wake up, take 1 capsule 1 hour before your meal (empty stomach) and drink a lot of water.

If you are acidic, better to eat your meal first before taking luxxe white.

3 bottles of luxxe white before you can start seeing results.
SPECIAL PRECAUTIONS
Consult a doctor if you are under any medical condition, pregnant or breastfeeding.
Disclaimer for supplements: 
For adult use only. Keep out of reach of children. Not intended for children, pregnant, and lactating women.

If you are taking medication, consult your doctor before use.

Please consume 1-2 glasses of water after drinking the supplement.

No approved therapeutic claims.
Ajhay
Nice product. Hiyang ako dito, my skin texture has improved and it has helped to get rid of my stubborn cystic acne. Definitely worth purchasing!
I haven't received it yet due to courier delays but been using this product for years, Just discontinued because I got pregnant.
It gives you a different kind of glow. Got rid of pimple problem.
Very effective!
Been using it for 1 month now. My acne is improving and I sleep better now.
In terms of whitening, it is not instant but I am excited to use it for more months to see the effect.