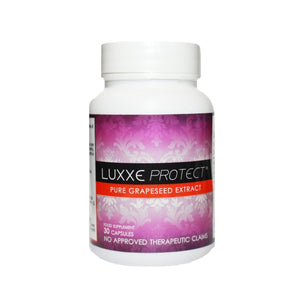 SEND US A MESSAGE IF YOU'RE INTERESTED IN LIFETIME 50% DISCOUNT WITH THIS PRODUCT.
Description: 
Luxxe Protect Pure grapeseed extract is a concentrated, natural plant material filled with anti-oxidants.
Luxxe Protect Benefits
50x more powerful than Vitamin C 20x more powerful than Vit. E
Content: 30 Capsules (15 Day Supply)
Grapeseed oil offers great benefits to our skin and can help heal wounds. This Helps skin remain young looking.
It provides your body with an abundant source of vegetable protein, Lipids, and Polyphenols.
Best time to take Luxxe Protect is:
Recommended usage 2 capsules per day, preferably 30 minutes before or after meals.
Drink a lot of water when taking the supplement.
This is also good in combination with Luxxe White.
Disclaimer for supplements: 
For adult use only. Keep out of reach of children. Not intended for children, pregnant, and lactating women.

If you are taking medication, consult your doctor before use.

Please consume 1-2 glasses of water after drinking the supplement.

No approved therapeutic claims.