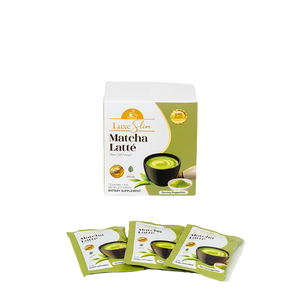 Description: 
Introducing LuxeSlim Matcha Latte: The Perfect Blend of Wellness and Flavor!
We are thrilled to present LuxeSlim Matcha Latte, our latest and most innovative variant of the LuxeSlim product line. Crafted with meticulous care, LuxeSlim Matcha Latte combines the unique benefits of matcha tea, stem cell extract, and a detoxifying effect to provide you with a delicious and rejuvenating beverage.
Matcha Tea: LuxeSlim Matcha Latte is centered around matcha, a type of powdered green tea that originates from Japan. Matcha is celebrated for its rich antioxidant content, vitamins, minerals, and amino acids. It offers a more concentrated dose of nutrients compared to traditional steeped green tea. With LuxeSlim Matcha Latte, you can enjoy the vibrant taste of matcha while reaping its incredible health benefits.
Stem Cell Extract: One of the key ingredients in LuxeSlim Matcha Latte is stem cell extract. Stem cells are known for their regenerative properties and are believed to support overall well-being. By incorporating stem cell extract into our latte, we aim to provide you with a unique blend that not only satisfies your taste buds but also promotes a healthy lifestyle.
Detox Effect: LuxeSlim Matcha Latte is carefully formulated to offer a gentle detoxifying effect. We have curated ingredients that are known to support the body's natural detoxification processes, helping you feel refreshed and revitalized. 
This drink contains Matcha Extract, Robusta, Collagen, Arabica, Stevia, Glutathione, Hyaluronic Acid, Spinach, Stem Cell Extract, Bittermelon Extract, Cucumber Extract, Psyllium Husk Fine, Garcinia Cambogia, and L-Carnitine.
Product weight: 10 sachets, 21g
How to use: Dissolve 1 sachet into hot or cold water. Drink 2-3x daily, ideally before meal.
Disclaimer for skincare products: We recommend that you read labels, warnings, and directions of all products before use. Please review the ingredients list and patch test before full application. Individual results may vary.
If use causes an adverse skin reaction, discontinue use immediately, and see your doctor or pharmacist if no relief comes from rinsing the affected area with cool water.
So yummy it feels great to drink
very healthy and great for my system 🥰🥰🥰