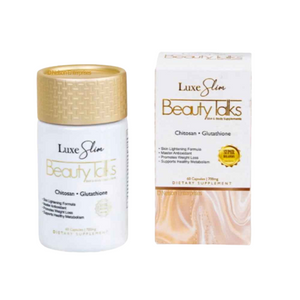 Description:
Luxe Slim Beauty Talks (Glutathione, Collagen, Chitosan)
Experience the transformative power of Luxe Slim Beauty Talks Skin & Body Supplements, a premium formula packed with Chitosan and Glutathione to unlock your inner radiance and promote overall well-being.
Skin Lightening Formula
Master Antioxidant
Promotes Weight Loss
Supports Healthy Metabolism
Product Weight: 700 mg/60 Capsules
The Beauty Talks capsules help you gain a more beautiful and radiant skin. The ingredients used promote weight loss. Moreover, this capsule will help hydrate, tighten and brighten the look of the skin and eliminate toxins from within for a well-balanced and healthy lifestyle.
INSTRUCTION:
Take 1-2 capsules a day, before or after meals; or as prescribed by a physician.
Disclaimer for supplements: 
For adult use only. Keep out of reach of children. Not intended for children, pregnant, and lactating women.

If you are taking medication, consult your doctor before use.

Please consume 1-2 glasses of water after drinking the supplement.

No approved therapeutic claims.