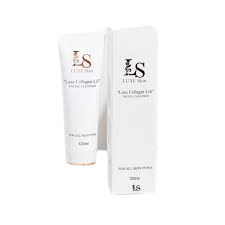 Description:
Luxe Collagen Lift Facial Cleanser 
- Luxe Collagen Lift Foam Wash whisks away make-up, dirt, and pore-clogging oils, while boosting and plumping skin for a healthy and refreshed feel.
- Infused with boosting collagen, Vitamin B3 ( niacinamide) and snail filtrate that removes dead skin cells and stimulates cell renewal.
- This nourishing cleanser works to soften, minimizes pore appearance, minimizes fine lines and wrinkles, treats acne and keep your skin firm and healthy.
Product weight: 120 ml
How to use: Just rub cleanser in a circular motion on your skin and wash thoroughly. Pat with a towel to absorb any excess moisture. Immediately after using Collagen Peptide 24 Face Cleanser, you'll notice that your skin will look more radiant, smooth, and bright.
Disclaimer for skincare products: 
 We recommend that you read labels, warnings, and directions of all products before use. Please review the ingredients list and patch test before full application. Individual results may vary.
If use causes an adverse skin reaction, discontinue use immediately, and see your doctor or pharmacist if no relief comes from rinsing the affected area with cool water.