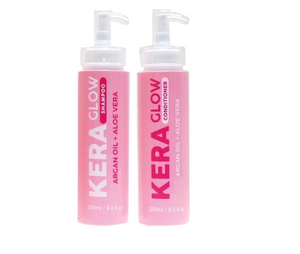 Description:
Hair so smooth and silky it glows.
Argan Oil: Deeply hydrates hair making it silky smooth, helps restore hair elasticity, minimizes frizz, and moisturizes dry scalp.
Aloe Vera: Infuses hair with shine and strength.
All Other Benefits of KeraGlow:
Argan Oil + Aloe Vera
Silky Smooth Hair
Hair Softening
Strengthens Hair
Gives Shiny Hair
Moistures Dry Scalp
Minimizes Frizzy Hair
Restores Hair Elasticity
Anti-Dandruff
Anti-Head Lice
Long-lasting Fresh Scent
Product weight: 250 ml
How to use:
Wash your hair in the shower. Rinse out all shampoo.
Spread the conditioner evenly on the ends of your hair. For long hair, spread it from chin level and down. Don't apply conditioner to your scalp.

Let it stay on your hair for a moment, following instructions on the label. This is typically 1 minute.

Thoroughly rinse off the conditioner.
Disclaimer for skincare products: We recommend that you read labels, warnings, and directions of all products before use. Please review the ingredients list and patch test before full application. Individual results may vary.
If use causes an adverse skin reaction, discontinue use immediately, and see your doctor or pharmacist if no relief comes from rinsing the affected area with cool water.