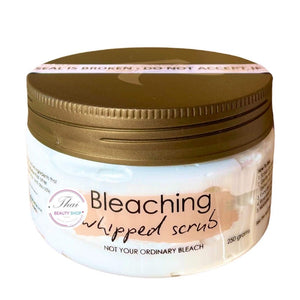 Description:
Benefits:
Removes whiteheads and blackheads

Dries up pimples

Removes dirt and oily skin

Anti-blemishes - Anti-aging

Removes dark spots

Removes dead skin cells

Minimizes wrinkles

Radiant, soft, smooth, and glowing skin 

Instant brightening effect if used continuously
Main ingredients:

Alpha Arbutin
Niacinimide
Jeju Aloevera
Glycerin
Product weight: 250 g
How to use:
Scoop an ample amount of bleaching whipped scrub unto your palm then apply in the desired area.

Gently rub it on your skin in a circular motion.

Leave it on your skin/body for 15-30 minutes.

Leave it longer as you desire.
Disclaimer for skincare products: We recommend that you read labels, warnings, and directions of all products before use. Please review the ingredients list and patch test before full application. Individual results may vary.
If use causes an adverse skin reaction, discontinue use immediately, and see your doctor or pharmacist if no relief comes from rinsing the affected area with cool water.