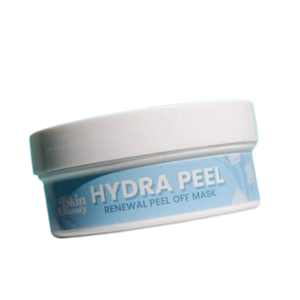 Description:
Want to improve skin hydration?
Try our new Hydra Peel Renewal Peel Off Mask!
THE NEXT BIG THING - J Skin Beauty Hydra Peel 
This renewal peel off mask helps in shrinking the open pores which further gives you tighter skin. Peel off masks work by penetrating deep into your pores and removing the dead cells in the outermost layer of your skin. along with any impurities sitting over it. Removing dirt, bacteria, debris, and overall impurity is essential to have balanced, toned, healthier skin.
Using a peel off mask regularly helps in reducing open pores, the appearance of fine lines, and wrinkles. This can also observe excess oil from the skin, this makes it an excellent product for those with oily and acne-prone skin.
Product weight: 100g
How to use: 2-3 times per week are enough. However, if you are in your 30's and have dry skin, you can use it every night for 30 days.
Disclaimer for skincare products: We recommend that you read labels, warnings, and directions of all products before use. Please review the ingredients list and patch test before full application. Individual results may vary.
If use causes an adverse skin reaction, discontinue use immediately, and see your doctor or pharmacist if no relief comes from rinsing the affected area with cool water.