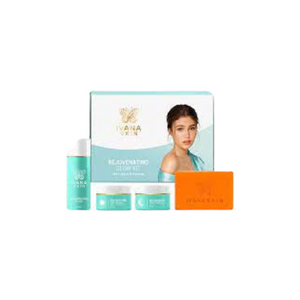 Description: 
Indulge in this 3-step system curated by IVANA to give you glowing skin, increased brightness and a luminescent complexion from within.
This is clinically designed to work better together. It contains 4 different products - a facial wash, a toner, a sunblock and a night cream. Together, they help speed up the rejuvenation of the skin while protecting it from UV rays and other harmful chemicals. It's also formulated to reduce the appearance of blemishes, acne scars, dark spots and other discolorations. After 15 days of use, expect that your skin is left plush, supple and glowing plus expect a rosy pink finish.
Product weight: 150 ml 
How to Use: 
Glow Toner- saturate a cotton pad with the product and wipe it over your face, neck, and chest.
Glow Day Cream with SPF 30- Smooth evenly over your entire cleansed face and neck in the morning.
Glow Night Cream- After cleansing at night, gently massage into face, neck and decolletage, using gentle, upward motions.
Rejuvenating Facial Wash-
Squeeze the foam into your palm and then mix little water to foam.
Massage over face, then rinse with water.
Use regularly every morning to see visible results.
Disclaimer for skincare products: We recommend that you read labels, warnings, and directions of all products before use. Please review the ingredients list and patch test before full application. Individual results may vary.
If use causes an adverse skin reaction, discontinue use immediately, and see your doctor or pharmacist if no relief comes from rinsing the affected area with cool water.