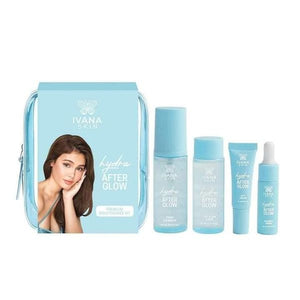 Description:
The Hydra After Glow Kit from Ivana Skin is a gentle formulation for all skin types, including sensitive skin. It's a maintenance kit that's designed to hydrate and protect your skin, especially after using Rejuvenating Kits.

The set includes a Foam Cleanser, a Collagen Toner that stimulates natural collagen production, a Vitamin C Serum that fortifies your skin's natural barrier, and a lightweight Day Cream with SPF to protect, nourish, and hydrate your skin. Every component of the Hydra After Glow Kit is formulated to effectively hydrate and protect your skin for that healthy hydrated glow!
The kit includes:
- Hydra After Glow Foam Cleanser 60ml
- Hydra After Glow Collagen Toner 60ml
- Hydra After Glow Day Cream 10g
- Hydra After Glow Vitamin C Serum 15g
How to use: 
Cleanse face using the

Foam Cleanser.

Rinse well and pat dry with a soft cloth.
Then, using a cotton pad/ball, apply thinly

Collagen Toner 

over the face and neck in one uniform stroke.
After a few minutes, apply

Vitamin C Serum

sparingly all over the face and neck.
Apply Day Cream in the morning.
Disclaimer for skincare products:
We recommend that you read labels, warnings, and directions of all products before use. Please review the ingredients list and patch test before full application. Individual results may vary.
If use causes an adverse skin reaction, discontinue use immediately, and see your doctor or pharmacist if no relief comes from rinsing the affected area with cool water.