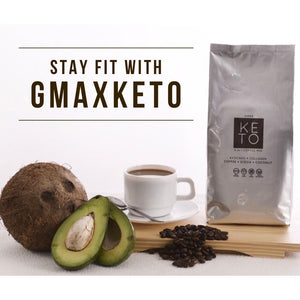 Description: 
Coffee with interesting combination of Avocado, Collagen and Coconut which are the key healthy ingredients to take for your Keto Diet goal. Zero Sugar (sweetened with natural Stevia), it may be served as cold or hot coffee. It is definitely a must-try for Perfect Keto Diet.
Health Benefits
Increase Energy

Zero Sugar

Helps burn fats
Product weight: 500 g
How to use: Dissolve 2 heaping tablespoons (20 grams) of powder in a 180 mL (6 oz.) cup of water, can be served hot or cold. For best result, take GmaxKeto daily 2 hours after a meal, proper diet and exercise are recommended.
Best to drink: 1 HOUR before eating atleast 2-3 times a day and it's also best to drink as your pre-workout drink.
Disclaimer for supplements: 
For adult use only. Keep out of reach of children. Not intended for children, pregnant, and lactating women.

If you are taking medication, consult your doctor before use.

Please consume 1-2 glasses of water after drinking the supplement.

No approved therapeutic claims.