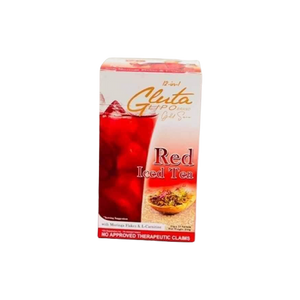 Description: 
Glutalipo is made to taste like any other juice drink, coffee, and even milk tea: to give consumers the same feeling of drinking their favorite drinks but instead of consuming more fats and sugars, what the user takes are active ingredients that help in cleansing the body.

Glutalipo wants every customer to still enjoy their favorite food and when it's time to get rid of the guilt of eating too much, the experience is still pleasurable to the taste.
All 12-in-1 Glutalipo drinks are infused with organic ingredients. The main ones are Garcinia Cambogia combined with L-Carnitine for an effective and efficient way to burn fat and Glutathione and Collagen for the skin's healthier and more youthful glow.
Product weight: 10 sachets per box
How to use: For the best results, take 1 sachet each day. Dissolve the contents in 750ml warm or cold water with ice. Hydrate well throughout the day.
Disclaimer for supplements: 
For adult use only. Keep out of reach of children. Not intended for children, pregnant, and lactating women.

If you are taking medication, consult your doctor before use.

Please consume 1-2 glasses of water after drinking the supplement.

No approved therapeutic claims.
Drinks
I like the taste.. i like to order it again.
Taste Good
This red tea taste so good and helps with weight loss
Tastes good!
Im a big fan of Glutalipo drinks specially the classic flavors. Tried this new flavor recently and it tastes good as well.