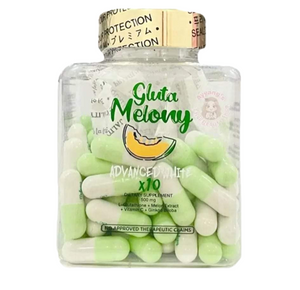 Description:
Gluta is best for whitening.
Zinc is an essential mineral that helps the body inside and out. Due to its anti-inflammatory effects, zinc is especially beneficial for inflammatory acne and related scarring. Melon is good for Anti Aging and rich in vitamin c. The Vitamin C content in honeydew melon is good for the skin as it improves collagen levels. Collagen helps fight the effects of aging, such as wrinkles and sagging of the skin.
Product weight: 20g
How to use: As a dietary supplement take 2 capsule before breakfast and 2 capsule at night
Disclaimer for supplements: 
For adult use only. Keep out of reach of children. Not intended for children, pregnant, and lactating women.

If you are taking medication, consult your doctor before use.

Please consume 1-2 glasses of water after drinking the supplement.

No approved therapeutic claims.