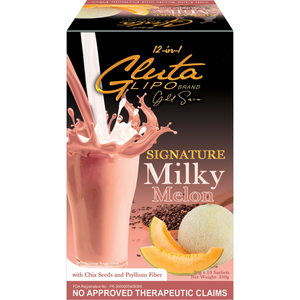 Description: 
Gluta Lipo is a proudly Philippine-made, FDA-approved, flavored drink that helps you get slimmer, whiter, and detoxified. 1 box contains 10 sachets (20g) good for around 15 cups of healthy goodness. 
Gluta Lipo is specially formulated with 12 active ingredients that have health benefits such as Garcinia cambogia, Glutathione, L-Carnitine, green tea, collagen, grape seed extract, mangosteen, goji berry, barley grass, malunggay, ampalaya, and lemon or coffee.
Product weight: 20 g x 10 sachets per box
How to use: Add 120ml to 150 of cold water then stir properly. For best result, dilute sachet mix into 1/4 glass of hot water first then then stir properly until powder is fully dissolved. Hot PreparationPour 1 Sachet of 12 in 1 GlutaLipo Signature Fiber Coffee with Psyliium Fiber into a medium sized glass.
Disclaimer for supplements: 
For adult use only. Keep out of reach of children. Not intended for children, pregnant, and lactating women.

If you are taking medication, consult your doctor before use.

Please consume 1-2 glasses of water after drinking the supplement.

No approved therapeutic claims.