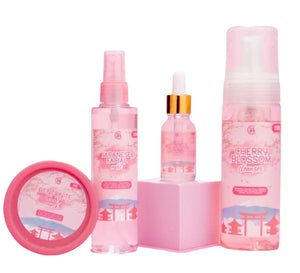 Description: 
Cherry blossom cleanser - whitening, cleanse pores, exfoliates, removes deep seated dirt, controls oiliness, prevent breakouts.
Bentonite clay mask - Lighten and soften skin, helps even skin tone, helps minimize pores, exfoliates skin, removes toxins, treat and prevent breakout, deep cleanses pores, removes appearance of dark spots, leaves beautiful and glowing skin.
Japanese blossom serum - provides long lasting firming, smoothing and moisturizing effect that will leave your face feeling youthful, glowing and supple.
Japanese facial mist - pore minimizing helps the skin maintains its natural moisture, anti-acne, hydrates the skin, lightens dark spots and blemishes, and removes deep seated dirt.
Sakura is an elegant symbol of Japanese beauty, like the rose represents the beauty of the west.

Disclaimer for skincare products: We recommend that you read labels, warnings, and directions of all products before use. Please review the ingredients list and patch test before full application. Individual results may vary.
If use causes an adverse skin reaction, discontinue use immediately, and see your doctor or pharmacist if no relief comes from rinsing the affected area with cool water.