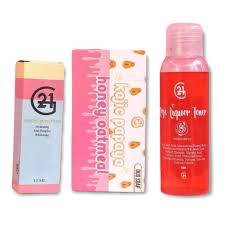 Description: 
G21 Toner
Anti Oxidant & Anti Aging
Protects Skin from UV Radiation
Relieves Inflammation
Soothes skin irritations
Fights acne
Treat Eczema
Removes dead skin
Can be used as makeup remover
G21 Serum 

Lightens dark spots and pimple marks

Treat acne-prone and irritated skin as well

Leaves beautiful glowing skin
Kojic Papaya & Honey oatmeal soap contains:

K

ojic (to lighten visible sun damage)

P

apaya (vitamin A and Papain Enzyme)

O

atmeal & honey (effective natural remedy for skin lightening & brightening)
Products are all made from organic ingredients, so it's definitely safe to use. 
FDA Approved.
How to use:
CLEANSE with our Duo Soap. It helps in removing bacteria, dirt, and clogged pores of your skin.
PREP & TONE using our Rose Liquor Toner. It brightens your skin and removes excess dirt and oil from the skin.
NOURISH with Perfect Skin Serum.
Disclaimer for skincare products: We recommend that you read labels, warnings, and directions of all products before use. Please review the ingredients list and patch test before full application. Individual results may vary.
If use causes an adverse skin reaction, discontinue use immediately, and see your doctor or pharmacist if no relief comes from rinsing the affected area with cool water. 
The product is 100% legit and effective! It was deliver the next day I ordered and the packaging of the product is superb 🥰 thank you for the freebies as well! Will order more soon!