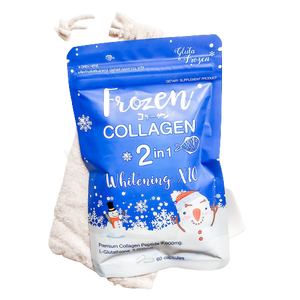 Description: 
Our collagen is better than any other brand in the market because we use Hydrolyzed Fish Collagen Tripeptide. This collagen can be absorb by our body up to 95-100% and the normal collagen peptide has only 45% absorption.
(Our collagen is derived from deep sea fish. Contains the same collagen structure of human skin.)
Help to repair and reduce wrinkles
Helps with acne
Prevents sagging of skin
Makes skin pinky and bright
Makes skin look firm and bright
Help reduce acne, freckles & MELASMA
Normally, collagen itself may not brighten skin that fast but when combined with vitamin C, it will accelerate the body to absorb faster therefore you'll see faster results. 
Our Frozen Collagen already consists of vital  Vitamin C & E for faster absorption and for UVA and  UVB protection for a healthier youthful skin.
FDA: 10-1-01057-5-0014
Product weight: 60 capsules per box
How to use: Take 2 Capsules before sleep followed by a glass of warm water. 
Disclaimer for supplements: 
For adult use only. Keep out of reach of children. Not intended for children, pregnant, and lactating women.

If you are taking medication, consult your doctor before use.

Please consume 1-2 glasses of water after drinking the supplement.

No approved therapeutic claims.
Frozen
I love using this for me its a good product and affordable for my budget !!