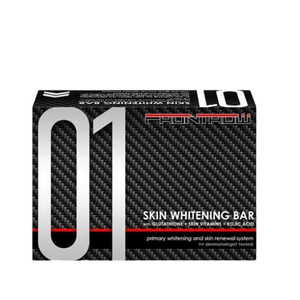 Description: 
Benefits of FrontRow 01 Skin Whitening Soap Bar With Glutathione, Kojic Acids & Skin Vitamins
Professional Skin Brightening & Rejuvenating Formula 

Reduces the appearance of Dark Spots

Primary whitening and skin renewal. Dermatologist tested. 

Exfoliate Surface of Damaged Skin to Reveal Healthy New skin

Glutathione for Powerful Whitening Action

01 Skin whitening bar helps lighten skin pigmentation such as age spots, freckles, acne scars and pigmented skin. 
Product weight: 150 g
How to use: 
Wet skin, gently massage soap onto the skin, DO NOT RUB, avoid getting into eyes, nose or mouth.
Let it sit for just a few seconds (First-time users: just wash regularly).
Then rinse with cold water thoroughly, leaving residue will cause the skin to itch and feeling sore.
If you experience peeling, this should last not more than 10 days.
Disclaimer for skincare products: We recommend that you read labels, warnings, and directions of all products before use. Please review the ingredients list and patch test before full application. Individual results may vary.
If use causes an adverse skin reaction, discontinue use immediately, and see your doctor or pharmacist if no relief comes from rinsing the affected area with cool water.  
Good soap. Best paired with a lotion as it can be drying to the skin