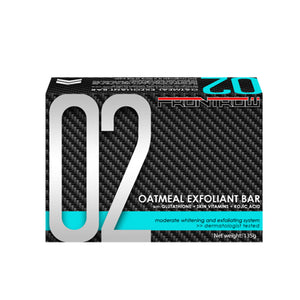 Description: 
What is 02 Oatmeal Exfoliant Bar?
02 Oatmeal Exfoliant Bar is your second step to the SKIN RENEWAL SYSTEM. Moderate whitening and exfoliating system.
Dermatologist tested.

Meticulously sprinkled with oatmeal to effectively wash off rough skin and achieve utmost radiance. Gently nourish your skin with oatmeal to avoid damaged and inflamed skin. Skin-soothing agents generously infused in this exfoliant bar will greatly calm one's complexion. Skin roughness is a thing of the past!

Oatmeal Exfoliant Bar Ingredients:
Oatmeal, Refined Coconut oil, Sodium Palmitate, water, Glutathione Powder, Alpha Lipoic Acid, Glycerine, Rosehip Oil, Ascorbic Acid, Vitamin E, Fragrance.
Product weight: 135 g
How to use:
Wet skin, gently massage soap onto the skin, DO NOT RUB, avoid getting into eyes, nose or mouth.

Let it sit for just a few seconds. Then rinse with cold water thoroughly, leaving residue will cause the skin to itch and feeling sore.

To fully enjoy the benefit of SKIN RENEWAL SYSTEM.

Users must initially use 01 for 2 months, then slowly graduating to 02 for a month, then finally 03 the extreme whitening and skin clarifying system. Highly recommended applying a moisturizer with Sunblock.
Disclaimer for skincare products: We recommend that you read labels, warnings, and directions of all products before use. Please review the ingredients list and patch test before full application. Individual results may vary.
If use causes an adverse skin reaction, discontinue use immediately, and see your doctor or pharmacist if no relief comes from rinsing the affected area with cool water.