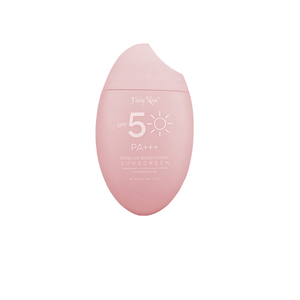 Description: 
With its 0% whitecast, non-heavy and non-sticky formulation, lightweight texture, instant tone-up effect, hydrating benefits, and intense whitening - IT'S A SUNSCREEN OF YOUR DREAM!
Who would've thought that this premium look and formulation could be so much AFFORDABLE!
With almost a year in the making, this is a protection, hydration, and whitening in ONE! 
It's even tested by DAISO Ultraviolet Transmittance Analyzer SPF Report and passed the SPF 70 rating!  
Product weight: 50 g
How to use: Using the two-finger method, put two strips of sunscreen on your middle finger and index finger then apply liberally on your face and neck. Re-apply every two hours.
Disclaimer for skincare products: We recommend that you read labels, warnings, and directions of all products before use. Please review the ingredients list and patch test before full application. Individual results may vary.
If use causes an adverse skin reaction, discontinue use immediately, and see your doctor or pharmacist if no relief comes from rinsing the affected area with cool water.