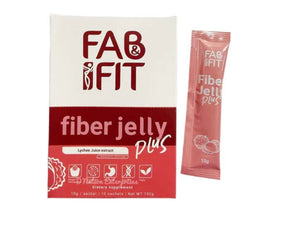 Description:
Fiber Jelly plus of FAB&FIT is designed to help cleanse the gut with the use of fiber and other fruit extracts rich in antioxidants. 
HEALTH BENEFITS
- Makes you poop using high fiber and natural ingredients.
 -Helps with constipation
- Decreases bloating
 -Have a healthier digestion

Product weight: 15 g
How to use:
Take one Fiber Jelly Plus after having a meal.

Fiber Jelly Plus should be taken only ONCE a day!
Disclaimer for skincare products: 
We recommend that you read labels, warnings, and directions of all products before use. Please review the ingredients list and patch test before full application. Individual results may vary.
If use causes an adverse skin reaction, discontinue use immediately, and see your doctor or pharmacist if no relief comes from rinsing the affected area with cool water.