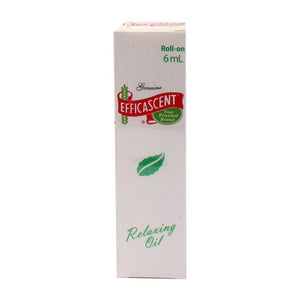 Description: 
For relief of travel and motion sickness, headache and dizziness, stuffy nose due to colds, minor stomach and abdominal pains and itchiness due to insect and mosquito bites.

Can be applied topically on the temples and on the wrists, or by inhaling it from the bottle. Repeat if necessary.

Ingredients: Relaxing oil contains essential oils such as Eucalyptus and Peppermint.
Product weight: 6 mL
How to use: Roll on temple and other intended areas. Rub gently into skin to achieve penetration. Can be inhaled when needed. To inhale, roll on handkerchief or tissue and inhale deeply.
Disclaimer for skincare products: We recommend that you read labels, warnings, and directions of all products before use. Please review the ingredients list and patch test before full application. Individual results may vary.
If use causes an adverse skin reaction, discontinue use immediately, and see your doctor or pharmacist if no relief comes from rinsing the affected area with cool water.