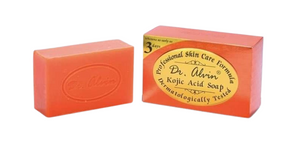 Description: 
Using Kojic acid soap on a regular basis may help reduce the appearance of age spots, eliminate or reduce freckles, reduce or eliminate skin discoloration from pregnancy and strengthen cell activity. The soap is used by many Japanese men and women as part of their regular facial regimen so that the skin stays soft and vibrant. Kojic acid also has antibacterial and anti-fungal properties.
May whiten skin in just 3 days.

Helps removes spot, blackheads and other skin Blemishes.

Apply on face and body.
Product weight: 135 g
How to use: Use as bath soap, preferably let it stay 3 to 5 minutes on your skin before rinsing. For facial use, do not leave on skin for more than 2minutes.
Disclaimer for skincare products: We recommend that you read labels, warnings, and directions of all products before use. Please review the ingredients list and patch test before full application. Individual results may vary.
If use causes an adverse skin reaction, discontinue use immediately, and see your doctor or pharmacist if no relief comes from rinsing the affected area with cool water.