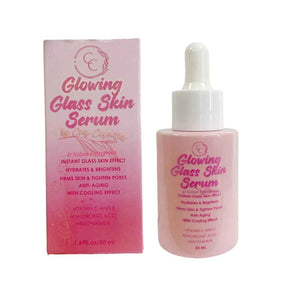 Description: 
Say hello to Cris Clerigo skincare obsession! Our Glowing Glass Skin Serum is here to help you achieve the ultimate glass skin look. This amazing serum will hydrate, brighten and firm your skin, while also tightening your pores and providing anti-aging benefits.
The cooling effect of this serum will leave your skin refreshed and glowing, giving you that 'just got out of the spa' feeling. With consistent use, you'll notice a dramatic improvement in your skin's texture and tone.

If you're looking for a serum that delivers on its promises, look no further than Cris Cosmetics Glowing Glass Skin Serum. Get ready to turn heads and make a statement with your radiant, glass skin complexion.

Product Weight: 50ml
Ingredients:
Aqua, Crosspolymer, Azeglygic Optima, Vitamin B3 Niacinamide, Hyaluronic Acid, Vitamin C & E, Glycolic Acid, LactomoistPhenoxyethanol and Fragrance.
Directions:
After cleansing and toning apply an ample amount on your entire face. Gentle pat using fingertips to aid absorption. 
SAFETY: Before use, perform a SPOT TEST to test for sensitivity as follows: Apply or rub product/products to a patch of skin on the inner, lower arm. Rub it in and allow it to dry on the skin. Do not wash that area of the skin for at least 24 hours; watch for signs of reaction. If rash, burning, tingling, or inflammation occur, immediately remove the product from skin and discontinue all further use.
Disclaimer for skincare products: We recommend that you read labels, warnings, and directions of all products before use. Please review the ingredients list and patch test before full application. Individual results may vary.
If use causes an adverse skin reaction, discontinue use immediately, and see your doctor or pharmacist if no relief comes from rinsing the affected area with cool water.