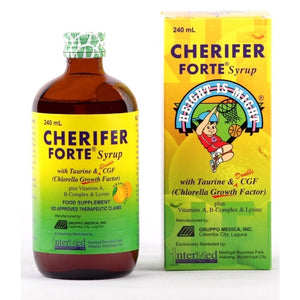 Description: 
CHERIFER FORTE is the vitamin preparation fortified with double Chlorella Growth Factor to maximize growth potential and provide cell nourishment. It also has Taurine that helps with the mental development of children.
For kids 2 to 12 years old
Enhances growth and bridges the growth gap years Enhances appetite and helps developmental health.
Product weight: 240 mL
How to use: Recommended Dose: Children 10-12 years: 5 mL (1 tsp); 2-9 years: 2.5 mL (½ tsp). To be taken daily or as recommended by a health professional.
Disclaimer for supplements:

Cherifer Forte Syrup is ideal for children aged 2-12 years old only.
It is always best to consult your doctor or pediatrician before giving any supplement or medication to your child.
No approved therapeutic claims.

Super happy ako at natuklasan ko 'tong page na 'to sa fb😊 dahil nakaka purchase na ko ng mga Philippine product like this, kahit noon pa na isa palang junakis ko cherifer na ang binibili ko
Friendly and fast service.