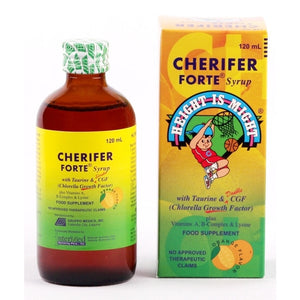 Description: 
Cherifer Forte Syrup with Taurine and CGF is an orange-flavored Vitamin preparation with Taurine, Lysine, and Chlorella Growth Factor (CGF).
For kids 2 to 12 years old
Enhances growth and bridges the growth gap years
Enhances appetite 
Product weight: 120 mL
How to use:
2-9 years old: 2.5 mL(1/2 teaspoon)

10-12 years old: 5mL (1 teaspoon)

To be taken once daily or as recommended by a health professionals.
Disclaimer for supplements:

Cherifer Forte Syrup is ideal for children aged 2-12 years old only.
It is always best to consult your doctor or pediatrician before giving any supplement or medication to your child.
No approved therapeutic claims.