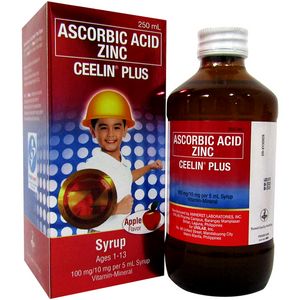 Description: 
Ceelin Plus provides children double protection against sickness with the powerful combination of Vitamin C and Zinc. It is the only brand made with ZincPlus Technology that ensures the stable combination of these 2 ingredients so that kids get the full dose they need.

Indications/ Uses:

These nutritional supplements are used for the prevention and treatment of deficiencies of vitamin C and zinc.
Product weight: 250 mL
Disclaimer for supplements:
Ceelin Plus Ascorbic Acid + Zinc Syrup is ideal for children aged 2-13 years old only.
It is always best to consult your doctor or pediatrician before giving any supplement or medication to your child.
No approved therapeutic claims.