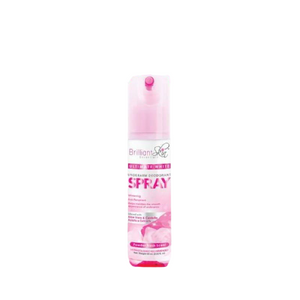 Description: 
Brilliant Underarm Deo spray helps eliminate armpit odor by creating a protective barrier against odor causing bacteria.
It also helps lessen hair growth, lessen sweat and avoid keratosis pilaris or also known as Chicken skin.
Infused with: Mulberry Extract/Chamomilla Extract/Hamamelis Extract/Alpha Arbutin
Product weight: 50 mL

How to use: Use as a regular deodorant, preferably after every bath. Hold at least 5 inches away from your under arm, spray away and let it dry.
Disclaimer for skincare products: We recommend that you read labels, warnings, and directions of all products before use. Please review the ingredients list and patch test before full application. Individual results may vary.
If use causes an adverse skin reaction, discontinue use immediately, and see your doctor or pharmacist if no relief comes from rinsing the affected area with cool water. 
Its true!!!
I think I'm starting to like this product. I ordered 2 of these and the first time I use it, my underarms felt smooth after it dries off. Looking forward for its effect especially in whitening my underarms. Thank you so much seller!
Better than other deo
Love this Underarm Deo by BrilliantSkin. Ever since I use this (bought here in Pretty Glam) I smell so good even after workout. Thumbs up!