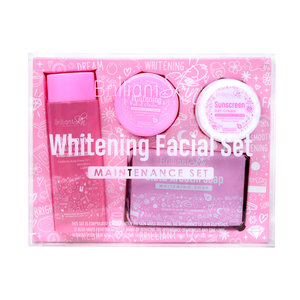 Description:
The kit is formulated to whitens the face, reverse signs of aging, maintain skin suppleness and reduce wrinkles. It nourishes your skin to let its natural beauty shine through! It also removes the appearance of skin blemishes and begins whitening your skin in just one week!
It is formulated with naturally obtained whitening actives and antioxidants. It effectively whitens the skin by targeting dark spots and hyperpigmentation, encouraging a lighter and more even skin tone.
How to use:
GLUTA-ARBUTIN SOAP- use in the morning and at night as your daily cleanser. Apply to damp face and lather 2-3 minutes before rinsing.
WHITENING FACIAL TONER- after cleansing with Gluta-Arbutin Soap, place a small amount of Brilliant Whitening Facial Cream Toner on a swab cotton and spread evenly on your face and neck with upward motion. Use once a day preferably before bedtime.
WHITENING CREAM- after using Brilliant Skin Whitening Facial Toner, gently apply Brilliant Whitening Cream evenly on your face and neck with upward motion. Use once a day preferably before bedtime.
SUNBLOCK CREAM SPF30- use Brilliant Skin Sunblock Cream SPF 30 during day time especially when you apply Brilliant Skin Whitening Facial Toner and Brilliant Skin Whitening Cream at night for added protection during the entire exfoliation process. Apply 30 minutes before sun exposure and re-apply as needed.
 Disclaimer for skincare products: We recommend that you read labels, warnings, and directions of all products before use. Please review the ingredients list and patch test before full application. Individual results may vary.
If use causes an adverse skin reaction, discontinue use immediately, and see your doctor or pharmacist if no relief comes from rinsing the affected area with cool water.