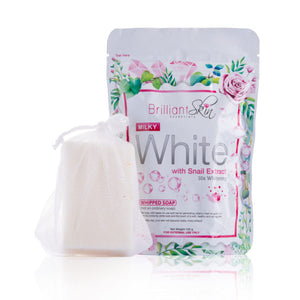 Description: 
Bar soap with a ready-to-use soft net for generating creamy foam to give your skin the brilliantly white look and the touch of soft, healthy, and young skin. Day after day, your skin will become visibly more brilliant!
Formulated with Snail Mucin, an extract that is being used in many Korean beauty products. It contains nutrients and anti-oxidants that gives you youthful skin.
Product weight: 100 g
How to use: Wet both palm and gently rub the Brilliant Skin Milky White Whipped Soap to create a creamy foam. Spread foam evenly on your face and neck and lather for a couple of minutes. Rinse thoroughly and towel dry.
Disclaimer for skincare products: We recommend that you read labels, warnings, and directions of all products before use. Please review the ingredients list and patch test before full application. Individual results may vary.
If use causes an adverse skin reaction, discontinue use immediately, and see your doctor or pharmacist if no relief comes from rinsing the affected area with cool water.